The Rise of Working Mothers – Infographic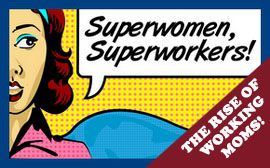 Although it can't be disputed that women have always worked, most mothers of young children haven't historically worked outside of the home until the Industrial Age created massive employment opportunities. As much as 71 percent of moms now hold outside employment, with 50 percent of them believing that their employment obligations make them better role models for their own children. Forty percent hold the opinion that they're more creative because of working outside the home, and that's probably because they've had to use imagination at times to solve household problems and time-crunch dilemmas.
Fifty-eight percent of working moms aspire to advance in the careers, and 64 percent feel that working outside the home does not significantly interfere with their parental responsibilities.
Women who are considering different job retraining options should be aware that the fastest growing fields are healthcare, computer science and, surprisingly enough, veterinary care. There is also a healthy market for qualified personal financial advisers.
See more stats about women in the workforce in this infographic:

This infographic image is by the Carrington College medical assistant training program.